Next-gen Content Analytics with Video Insights Platform
Interactive video reports and advanced analytics tools for cloud and on-prem.
FOR A FREE
PLATFORM TRIAL
Product plans for API & Platform
Most Advanced Content Analytics Platform
Valossa is the leading UI-centric cognitive AI-provider to allow non-developers start using these services easily and with trial accounts to test the waters.
Analyze with Valossa Recognition™
The video understanding AI is available as a cloud-based video recognition API that can effectively highlight and interpret concepts from any video stream. It creates scene level, time-coded metadata, providing all the needed content data through a single ingest point.
Explore with Video Insight Tools
Interactive report of videos
See a visual overview of what the AI has detected from the content. Examine the details and find what's relevant in your videos.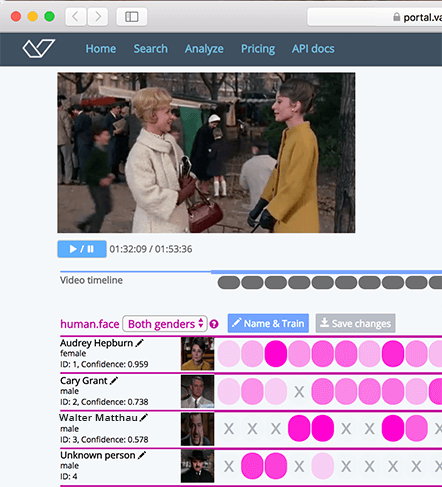 Search inside videos
Valossa AI goes through your video files and indexes every recognized person, object, scene and audio sound. Search and find everything inside your videos using natural language queries.
Tag and train
Give feedback to the AI and train customized face libraries quickly and easily.
Custom Services for Businesses
Valossa provides custom model training for specific audiovisual tags. Ask quotes for new video categories, face identities, facial expressions, and audiovisual concepts.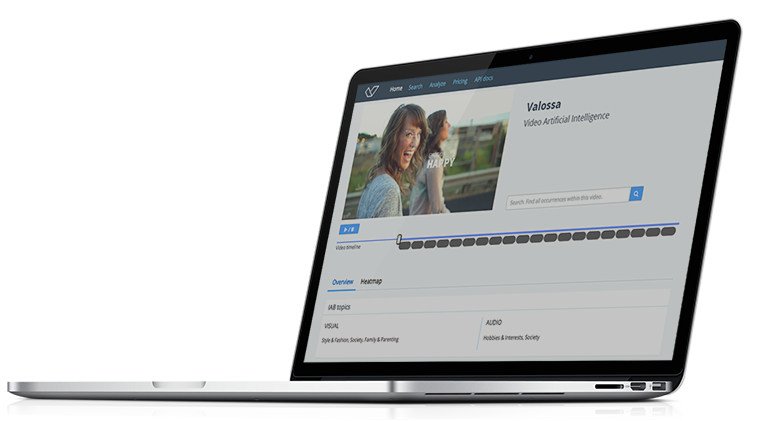 Real-time video recognition
Interested in live recognition of people, demographic information, and visual concepts from video streams? Contact us for a demonstration.
Integration & on-premise licensing
Get support for integration and on-premise deployment. Contact us for more information regarding customized recognition capabilities, Video Insight Tools and languages.
Ready to take video analysis to the next level?